Flatpak is a universal package management utility that is written in C. It allows different users to install and run software in an isolated environment. This utility behaves like a snap application, used for simplifying the software packages management across various operating distributions also used for deployment and virtualization. Flatpak can install on almost every type of Linux distribution.
We will elaborate in this tutorial on how to install Flatpak on CentOS 8 system. We will complete the installation of Flatpak and in the next section; we will describe how you can easily remove Flatpak from your system.
Prerequisites
You must be a root user or have privileges to run sudo commands.
Installation of Flatpak on CentOS 8
Flatpak can directly install from the official CentOS 8 repository using the dnf package manager. Open the command-line tool 'Terminal' by clicking on the application icon as follows:
Step 1: Update repository and install Flatpak
First, update the package repository and then use the following command to install Flatpak on your system:
$ sudo dnf update
$ sudo dnf install Flatpak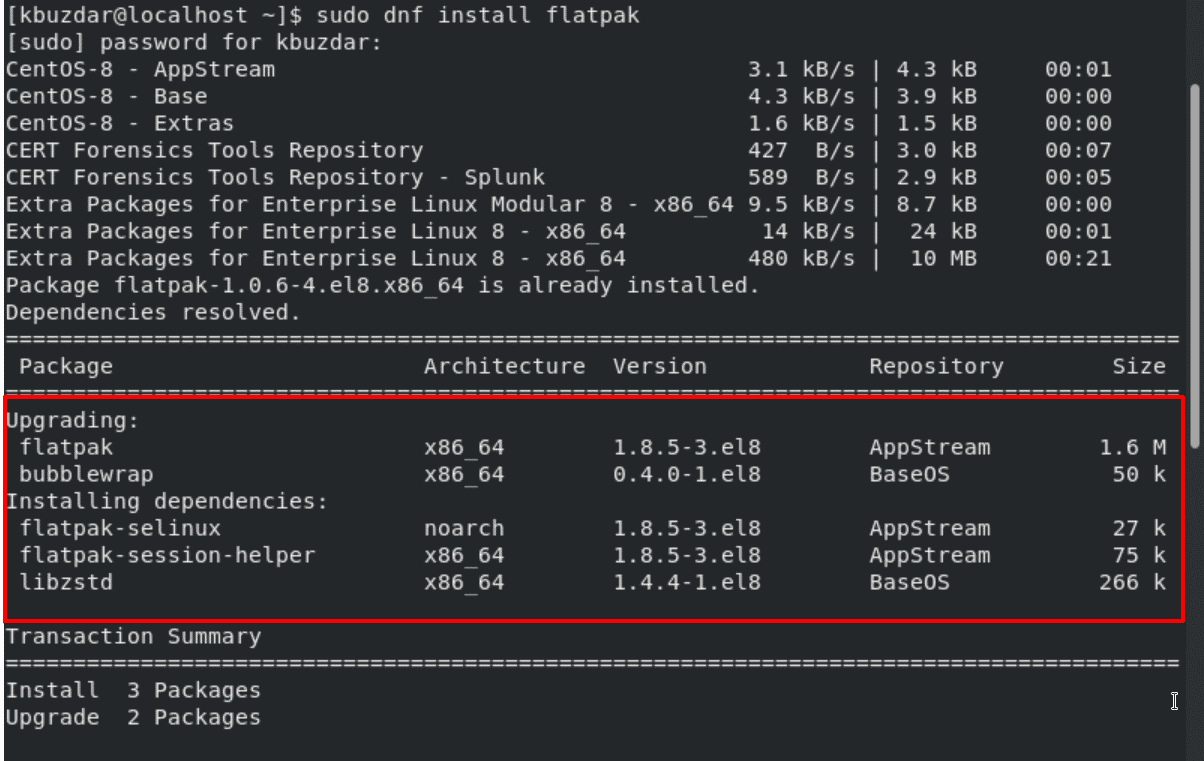 Enter the administrative password. After that, Flatpak installation will begin on your system. During the installation, the user confirmation prompt will display on the terminal. Enter 'y' and then press the 'Enter' key to continue the installation.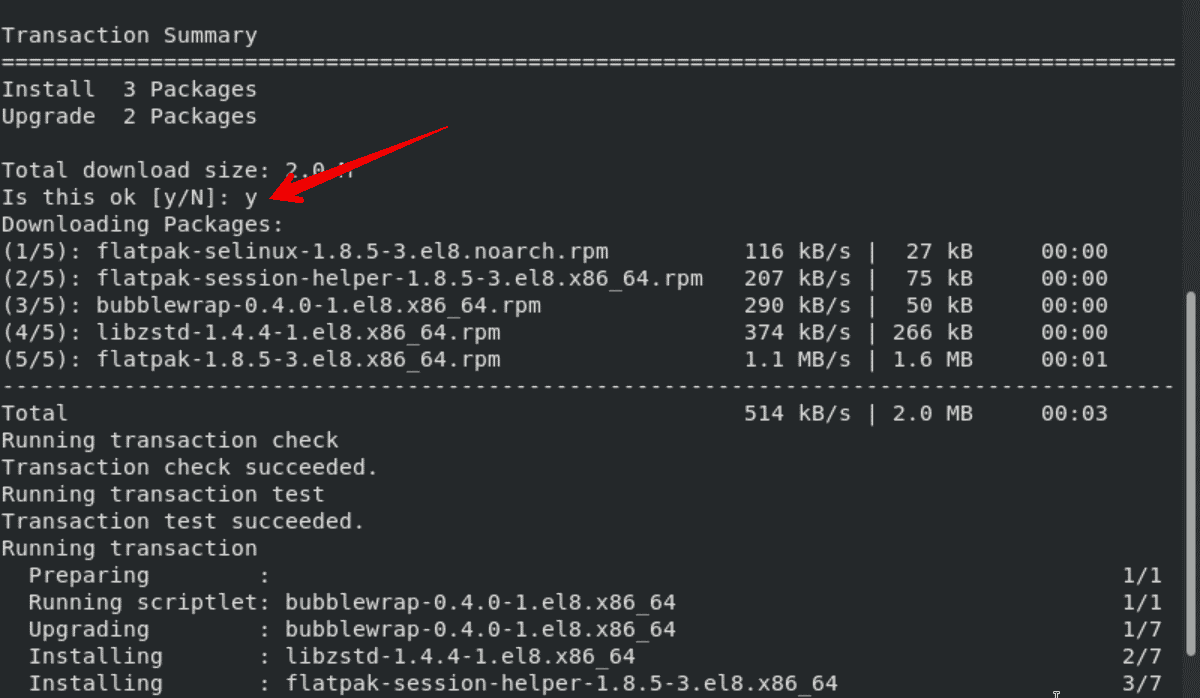 After a few seconds, you will see the complete status on the terminal window that means an installation of flatpak is completed now.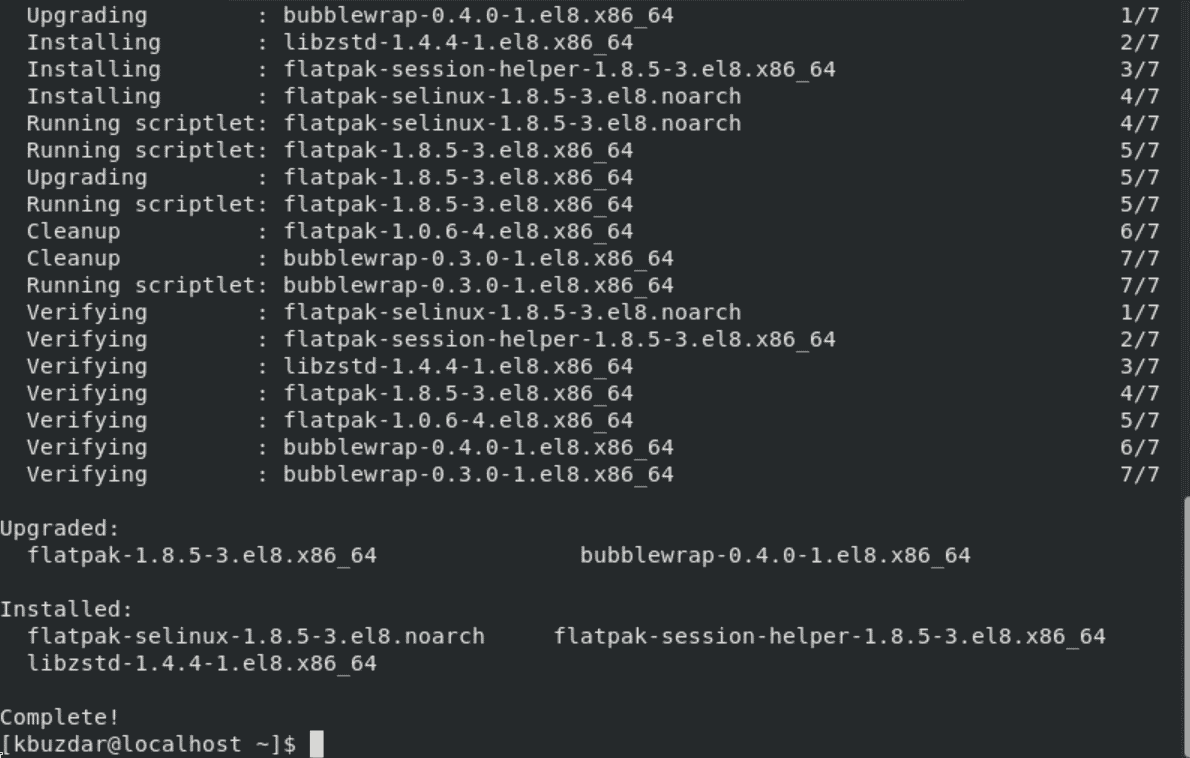 Step 2: Check Flatpak version
Check the installed Flatpak details on your system. The simple and easiest command to display the installed application information is given below:
$ rpm -qi package-name
$ rpm -qi flatpak
The following information about the installed Flatpak version should display on your terminal window: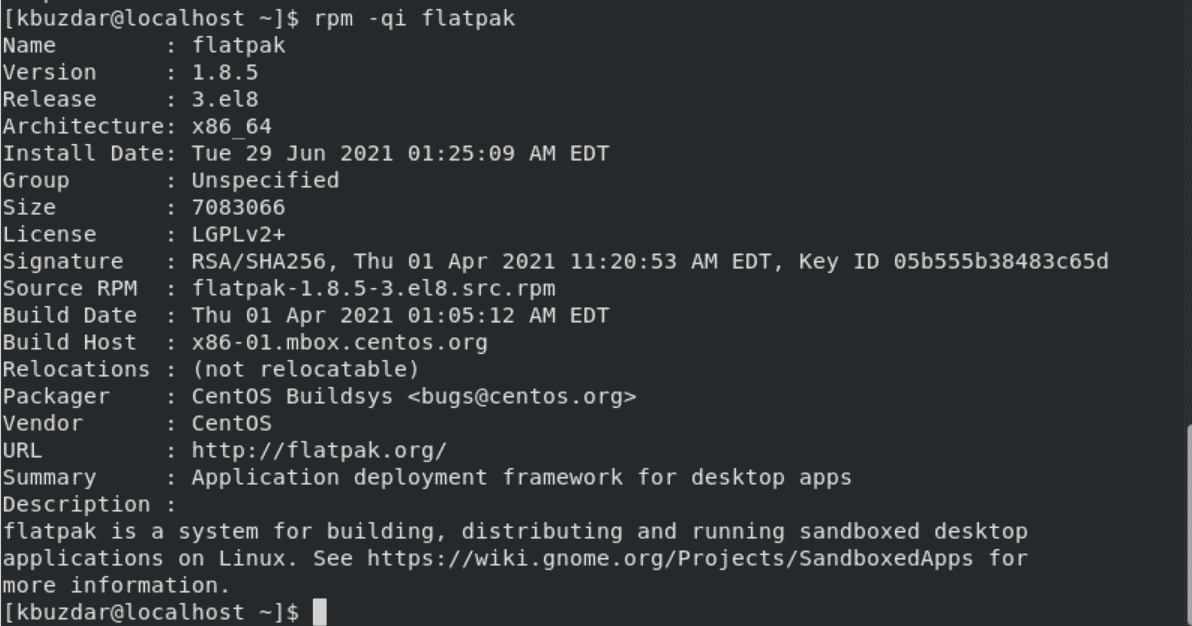 Uninstall Flatpak from CentOS 8
Flatpak utility can easily uninstall from your system by using the below-mentioned command:
$ sudo dnf remove flatpak
Conclusion
We have implemented the installation steps of Flatpak on the CentOS 8 system in this article. Using Flatpak, users can easily install new packages or applications from the flathub repository in an isolated space. Please let us know about your difficulties via your feedback. We will suggest the best solution to your issues related to this article.