Technology is advancing each day. And with each day doing wonders beyond one's imagination. One of the wonders is the remote desktop access and the tools. The remote desktop protocol allows one to access their computer that is sitting at their workplace, their homes, or any part of the world. Whether you are on a camping trip, out for groceries, or just simply at a remote location where you wish to access the files or information stored in your workplace computer systems. All you have to do is get on to the laptop and access your computers sitting at a workplace through the efficient remote desktop tools. The here discussed and listed tools are all free and allow users to access their Linux systems via any remote location.
Zoho Assist

Zoho Assist is an efficient remote desktop client developed and released by the praiseworthy software developers at the Zoho renowned software company. The efficient tool offers a free subscription and an open-source development environment. Zoho RDP allows its users to support and access data or information from their distant Linux computers without requiring any remote connection protocols such as SSH, RDP, VNC, etc. Without any concerns regarding remote computer's network, the connections are enabled via simple plugins accessed from browsers or desktops The extremely secure, fast, and commendable RDP platform offers a range of features including multi-monitor navigation, clipboard sharing to aid MSPs, remote file transfer, helpdesk technicians, IT support technicians, efficient and mechanisms for debugging a Linux remote desktop, security features include antivirus compatibility, two-factor authentication (2FA) enabled, action log viewer, 256-bit AES encryption ensures all session-related information is passed through an encrypted tunnel.
Sign-up for a free account now on https://www.zoho.com/assist/signup.html
Remmina

Hosting an extremely lightweight, fast, simple, and intuitive user interface, Remmina is another free, and open-source RDP client in our list of top-performing RDP tools. Remmina is one of the highly acclaimed, most recommended, and one of the market-leading RDP applications. The RDP tool comes equipped with a list of attractive features and capabilities such as vast support for a diversity of network protocols, remote desktop sharing capabilities, for each connection the tool displays Last View Mode, support for a list of plugins including RDP, VNC, EXECm RDP, SFTP, SSH, SPICE, etc., Dark Tray Icons, Full-Screen Toggle Mode option, Double-Click configurations, etc. Remmina is one of the best choices for system admins, travelers, firms, and companies requiring the RDP for their employees, freelancers, etc. Written in GTK+3, the tool not only seamlessly works with Ubuntu but also is efficient for other leading Linux distributions.
Get installation details now from https://remmina.org/how-to-install-remmina/
TigerVNC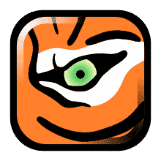 Released in 2009, TigerVNC is an RDP tool for all the platforms. The software is absolutely free, and open source and offers a wide range of capabilities and enhancements. TigerVNC is one of the strongest and most high-speed and performance RDP protocols that one can find out there. Unlike its competitors, TigerVNC, the renowned platform-neutral VNC implementation is an RDP server application, configures and establishes a unique and independent virtual desktop for each of its users. TigerVNC provides graphical applications on remote machines. One can estimate the agility, stability, and efficiency of the platform by the fact that it is able to run 3D and video applications via connecting to an RDP. Other features of the platform include its ability to maintain a consistent user interface and re-use components, where possible, across the various platforms that it supports, provide enhanced security through a number of third-party extensions and integrations, ability to implement advanced authentication methods and TLS encryption, and the list goes on.
Get it now from https://tigervnc.org/
XRDP

XRDP is the last addition to the list of our leading RDP clients. This tool is a free, efficient, fast, open-source, and the most straightforward RDP tool. XRDP adapts the rdesktop and FreeRDP mechanisms. The users can also use the integrated efficient graphical user interface (GUI) to access and view their Linux desktops. The efficient RDP client aggregates with x11vnc which enhances the platform's capability and set of features. It greatly integrates with LikwiseOPEN thus enabling you to log in to a Ubuntu server via RDP using an active directory username/password. Although XRDP is a good project, it needs a number of fixes such as taking over an existing desktop session, running on Red Hat-based Linux distributions, and more. The developers also need to improve their documentation.
Get it now from http://xrdp.org/
Closing Remarks
The article lists the best remote desktop tools for accessing Linux systems remotely. There are, as per our research, the best 4 RDP clients or tools that ensure optimal performance and provide seamless access to Linux-based computer systems. The 4 best RDP tools are Zoho Assist, Remmina, TigerVNC, and XRDP.