Web or Internet Browsers – been there around since 1990 – have successfully answered the queries and issues of many all around the globe. The first web browser to ever come in the existence was called WorldWideWeb, however, this name was later changed to "Nexus" to avoid the confusion between the World Wide Web and the web browser. After that, the second web browser was Line Mode Browser which was released in the year 1991. Following the Line Mode Browser, Mosaic came in the year 1993 which was termed as the "most popular browser". The Mosaic team later released another Mosaic-influenced web browser called Netscape in the year 1994. Finally, in the year 1995, the famous and favorite of many to date, the Internet Explorer was released by Microsoft. With the release of the Internet Explorer, the basis and foundation of the "browser war" was also set with Internet Explorer on one side and the competitor Netscape on the other.
Therefore, we see that since the inception of the internet and the web browsers, the competition between the different and most efficient web browsers has always been there. Hence, in this article, we provide a list of 5 popular web browsers of 2021, that are evaluated based on privacy, speed, compatibility, updates, and support.
Firefox

Firefox tops our list of the best web browsers to exist in 2021. Firefox was released in the year 2002 by the Mozilla community. Soon after its release, Firefox took the market by storm as it had outperformed Internet Explorer in terms of speed, efficiency, and privacy. However, with time, especially after the release of Google Chrome in the year 2008, the web browser had faced a drastic drop in its market share. Thereafter, for several long years, Mozilla Firefox kept lagging behind its competitors which mainly included Chrome and Edge. Though in November 2017, Firefox made an impressive comeback with the release of Quantum.
Firefox enhanced and added many features that made it catch the eye of many users. The new version offers improved RAM consumption which makes it a light web browser thereby making it significantly faster and efficient. Another feature that sets Firefox apart from its competitors is its most comprehensive policy for ensuring the security and privacy of the user data. This makes Mozilla Firefox the safest web browser among all the web browsers out there. Firefox offers numerous other features like different themes, light and dark mode, screen-capturing functionality, Picture-in-Picture mode, extensions, and more.
Mozilla Firefox is compatible with Windows, MAC, Linux, Android, and iOS, therefore offering enhanced compatibility for all platforms as well as ensuring flexibility. The only drawback of the browser at the moment is its limited plugin and extensions library. Other than that, Mozilla Firefox stands best amongst all its competitor web browsers.
Get it now from https://www.mozilla.org/en-US/firefox/all/#product-desktop-release
Chrome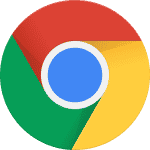 Google Chrome web browser since its inception in the year 2008, has been the favorite of web users. Chrome has constantly topped the list of maximum users for several years now and took no time to beat the best browser at that time, i.e., Microsoft Edge and Mozilla Firefox. What makes Chrome so popular is its most simple interface and extensive features, plugins, and extensions. Also, Chrome is compatible with all the devices, platforms, systems, and everything that a web browser can be compatible with providing utmost cross-platform compatibility. Another thing that makes Chrome stand out among its competitors is its extensive list of extensions offered that helps users customize and revitalize their overall browser experience, which is truly commendable and worth mentioning.
The release of Chrome 79, offers another list of advanced features like notifying a user if their email is being compromised, an enhanced library of add-ons, numerous tools for web developers, cross-platform support and sync, light and dark mode themes, autofill features, WebXR API for Augmented Reality (AR) and Visual Reality (VR).
Despite offering an extensive list of features, Chrome lags in terms of privacy as compared to Firefox and its high resource consumption. Regardless, Chrome never fails at impressing and being so popular among its users and forever topping the market share.
Get it now from https://www.google.com/chrome/
Opera

In the year 1995, Opera Software released a Chromium-based multi-platform web browser. The Opera web browser seems similar to Google Chrome in terms of usage as both Opera and Chrome utilize the same base program. Though, Opera is unique because it showcases a side navigation bar where one can pin different website links, this sort of acts like bookmarks, or shortcuts to email and chat windows. Users can also show or hide the side navigation bars or make other such settings that make the browser work like other traditional web browsers.
Opera has a considerable great speed and gives Firefox and Chrome good competition in terms of the great features that it offers. Opera uses extremely low capacity than the typical browser, thereby making it load web pages much efficiently than Chrome or Edge. The platform provides the same feel for the initial startup, site navigation, and page loading as other web browsers. Opera is compatible with Windows, Mac, Android, and iOS. The advanced features offered in Opera are what makes it one of the most eye-catching. These features include a built-in ad blocker, a built-in VPN, a Crypto Wallet for cryptocurrency, an in-browser messaging feature, an extensive list of shortcuts, a variety of light and dark modes, and most impressively, it allows adding plugins and extensions from the Chrome library.
One drawback of this platform is that some old websites do not allow access with Opera. This is because the old websites have not updated their code to recognize the Opera browser which can cause frustration for the user while trying to access these websites from Opera. Still, Opera has come a long way since its inception and is gaining popularity among web users, therefore, the day when all the websites are going to upgrade their platform to allow Opera access, is not far.
Download it now from https://www.opera.com/hi
Microsoft Edge

Internet Explorer is one of the founders of the web browser deserves a round of applause for its perseverance and the nature of never giving up. Despite receiving a great amount of backlash and significantly losing its market after the release of Firefox and Chrome, the Microsoft team never stepped down from the competition. Instead, it strived hard and has always given its competitors good competition. In July 2015, Microsoft released the new version of Internet Explorer with the name "Edge" – giving it a completely new look and feel along with enhanced performance and features.
In January 2020, Microsoft took another step ahead and revitalized Edge by making it a chromium-based platform. This makes Edge enabled with all the advanced features and functionalities of its competitors. Edge is compatible with all the platforms including Windows, MAC, Linux, Android, and iOS, and offers extreme speed. With Edge, no matter how many tabs are opened by the user, the chances of getting the browser to hang are extremely low. Edge allows you to download different web pages on your system which then function as stand-alone applications that do not require launching the whole browser. This feature particularly comes in handy with Google Docs or Twitter. The privacy and security settings of the browser are also enhanced and make it super easy for the user to customize the web browser according to their needs and requirements.
Considering the efforts of the Microsoft team and taking a glance at the advanced features of Edge, the web browser is soon going to become one of the most favorites of web users.
Download it now from https://www.microsoft.com/en-in/download/Internet-Explorer-11-for-Windows-7-details.aspx or https://microsoft-edge.en.softonic.com/download
Brave

Founded by Brendan Eich, who is a former CEO of Mozilla and Brian Bondy, the most stable version of the Chromium-based web browser called Brave, came into existence in November 2019. Despite being a relatively newer web browser, Brave has bypassed its competitors and has also been rated as the top-most browser by some reviewers. The Brave browser is an open-source project which was built by a team of privacy-focused and performance-oriented inventors. Being Chromium-based and extremely low on the RAM, as it consumes fewer resources, the Brave Browser is significantly faster than Chrome and Safari. The advanced Reinforcement Learning techniques applied lets user earn credits by clicking on ads based on user choice, the acquired credit can then be spent on various services.
The browser significantly easier and a simpler layout making it user-friendly. The browser is compatible with Windows, MAC, Android, and iOS. The most exciting feature of the browser is the Brave Shield which helps to block any trackers and invasive ads, making the user owners of their personal data including browsing history. No additional plugins or apps are required to install for acquiring such privacy, it rather comes built-in the browser. The advanced features are breathtaking, and ease, stability, maintenance, and performance are commendable for a browser that has released just two years ago and has already managed to come in the top 5 list of web browsers. It is not difficult to assess the growth and demand of Brave to reach up the skies in the upcoming few years, or months.
Get it now from https://brave.com/
Closing Remarks:
The article discusses the topmost web browsers that are best in terms of privacy, speed, compatibility, updates, and support. The browser that has proved to be the best amongst its competitors is Mozilla Firefox which has answered the utmost concern of many, i.e., privacy. Mozilla Firefox despite offering efficient mechanisms to ensure user data privacy also provides speed and efficiency making it top our list of best 5 web browsers. Chrome is very popular across the globe still tops the list of many reviewers but its speed and privacy features are no way near to Mozilla Firefox, as per our opinion. However, it still comes on second of our list of top 5 web browsers and other web browsers giving Mozilla Firefox a tough competition is also discussed. We believe, the web browsers that are based on or have shifted to the state-of-the-art Chromium-based platform have instantly revitalized their game for which Google Chrome must take the credit as Google was the first one to adopt the paradigm. Nevertheless, the browser wars are never-ending, and it is still a question if Mozilla can continue to enhance and top our list and other reviewers' list in the future as well.