Tetris, a sophisticated tile-matching computer game, has a huge following in the gaming business. The game was released on a variety of platforms, spanning DOS & Gameboy to PlayStation as well as Xbox. The videogame has reportedly sold over 170 million copies worldwide. The videogame is so addicting that psychiatrists investigating its addictive qualities can never get enough of it, and it began to interfere with actual normal working hours. The game may be deployed in a variety of methods on Linux. That takes us through our major goal for the day. But how does one play the game on either a Linux machine, especially Ubuntu? Do not worry; we've dedicated this entire tutorial to showing our users how to configure and run Tetris with Ubuntu.
Method 01: Install Using Tint
To get Tint, the Tetris copycat, you could run sudo apt. When you go forward, it's important to note that, although Tint seems to do a good job at simulating the actual game, there seem to be a few key changes. You don't, for instance, have a sneak peek at the very next brick that will be released. Before we begin the installation procedure, let's all perform the confinements of verifying for updates.
$ sudo apt update & sudo apt upgrade
After that, we're ready to deploy Tint, and thankfully, it just requires a single instruction! Make sure to use the sudo keyword in your command to use sudo privileges. So, we have been using the below installation command having the keyword "tiny" in it while using the apt package. It requires the sudo user password to proceed with the installation of Tetris copy cat tint. So add your password and hit Enter to go further.
$ sudo apt install tint

It may require you to wait for some time until it gets did with the installation. The last line for the completion of the tint installation is shown below.

Now the Tetris copy "tint" has been properly configured on our system, it's time to launch and open it in our system. We have to just use the simple "tint" command to do so. It may ask you to choose the level of a game you want to play in it. As you can see we have entered "1" and pressed the Enter button.
$ tint

Now the Tetris game of level 1 has been opened. You can play around and quit via the "Q" button.
Method 02: Install via Fenriswolf Version
A straightforward snap statement may be used to deploy the Fenriswolf Tetris edition in Ubuntu. As a result, Ubuntu editions 16.04 and higher can deliver Fenriswolf Tetris since the snap has already been loaded. Those that don't have it can get that at the shop using the below query.
$ sudo apt install snapd

Now, at the console, type the subsequent instruction to install the Fenris wolf version of Tetris.
$ sudo snap install tetris-thefenriswolf

It will start downloading Tetris in Linux via the snap package. Wait for a while until its end.

Now the Tetris has been downloaded as per the below image.

Now you can launch it via the below query.
$ tetris-thefenriswolf.tetris

Below window for Tetris will be opened, asking to Enter the game level you want to play. We have pressed 1.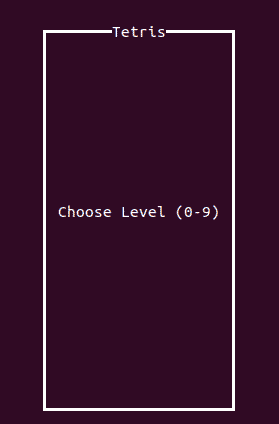 Now you can start playing it via right and left arrow keys to set the bricks. Press "q" to quit whenever you get bored.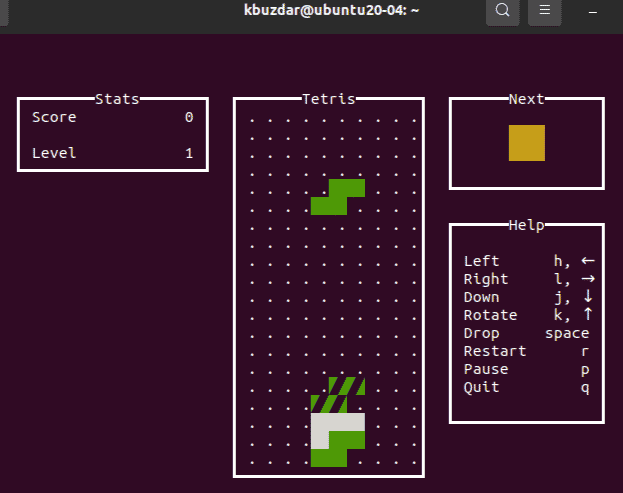 After quitting the game, your score will be displayed on the terminal as below.

Conclusion:
People of all ages are enchanted by the game's ingenuity and the enjoyment it provides, so it's no wonder that it's still in demand after over 35 years. We've laid out a few different techniques and variations of the game for you to choose from, so you may pick one that just best suits your requirements.