Released in 2011, Cinnamon is a Linux desktop environment that was initially a fork of GNOME 3. It is the default desktop environment for Linux Mint, but it can also be installed on other Linux distributions.
Cinnamon is a modern and stable desktop environment provides a sleek and elegant look. It provides an immersive desktop experience with an easy-to-use UI that strikingly resembles that of Windows. It's for this reason that Linux Mint is preferred as one of the most user-friendly distributions for beginners migrating to Linux.
Notable features include:
Multiple panels that come with a main menu
Launchers and Window lists
A flexible system tray that can be positioned on the right, left , upper or lower edges.
A wide selection of desklets for ease of access.
Animations , transition effects, and transparency.
A wide range of official extensions.
Brightness and volume adjustments using a scroll wheel by pointing at the respective icon on the taskbar.
Cinnamon 5.2 is the latest desktop environment as the time of publishing this guide. This guide will show you how to install the Cinnamon desktop environment on Debian 11.
Step 1: Update your system
You need to ensure the system is updated. Run:
$ sudo apt update
Step 2: Install Cinnamon Desktop
Cinnamon Desktop Environment is available in the default Debian 11 repository. It can be installed with apt using the following command:
$ sudo apt install task-cinnamon-desktop 
This installs all the components of the Cinnamon desktop environment, How Once it is done, reboot your system:
$ sudo reboot
Switch to Cinnamon Desktop environment
Once your system is rebooted, Do not login in, click on the settings icon on the login page. It will give you the option to switch from the default Gnome Desktop to Cinnamon Desktop Environment.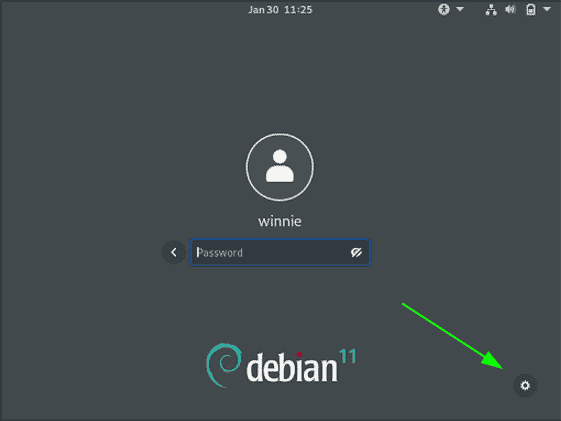 On the pull-up menu, select the Cinnamon option. The Cinnamon(software rendering) mode is a backup mode when your default system has a problem accessing your video or graphics card.
Now login into your system.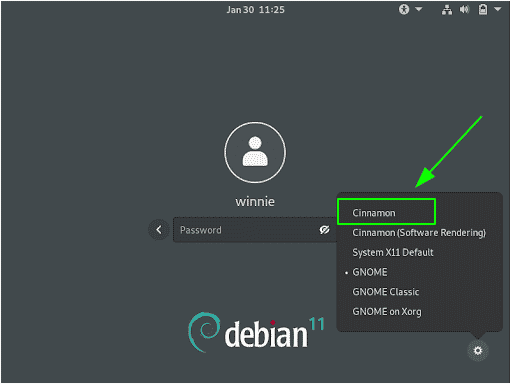 This ushers you to a new-look Cinnaomon desktop environment with a striking resemblance to the Windows User interface.Click on 'Start' button to access your applications.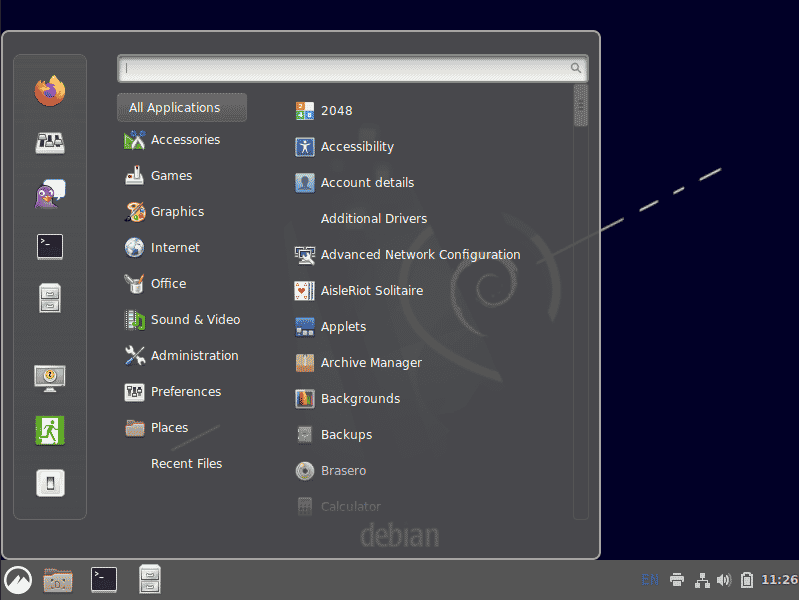 And that is it. We have demonstrated how to install Cinnamon Desktop on Debian 11.
Karim Buzdar holds a degree in telecommunication engineering and holds several sysadmin certifications including CCNA RS, SCP, and ACE. As an IT engineer and technical author, he writes for various websites.