Introduction
Franz is like a hub of messengers instead of working as a messenger itself. It helps the users connect with different services. Franz centralizes all of the popular services like Facebook, Twitter, WhatsApp, and Line. You can choose to connect with whatever services right from your computer and use them. At the time of writing, Franz has launched its version 5 which is cross-platform. It has everything a casual Linux user needs for his messaging requirements.
Franz groups all the messages and notifications. It displays them in its standalone software then. Today I will step by step show you how to install Franz 5 on Ubuntu 20.04 LTS.
Step 1. Download Franz 5 Messenger
Franz is not available in Ubuntu or any other Linux distributions repositories. It can only be downloaded from their website. Therefore you also do not need to update your system repositories before installing them.
You will go to the following link and download the Ubuntu version of the Franz 5 as shown below:
https://meetfranz.com/#download

Step 2. Install Franz 5 Messenger on Ubuntu
You are ready to install Franz 5 on Ubuntu once .deb binaries are downloaded. I will use gdebi installer to install the messenger.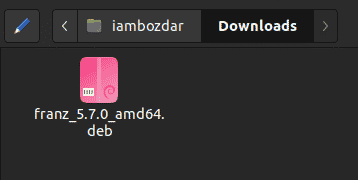 Double click on the .deb binary file, enter your password and hit enter. Here is how it will look like: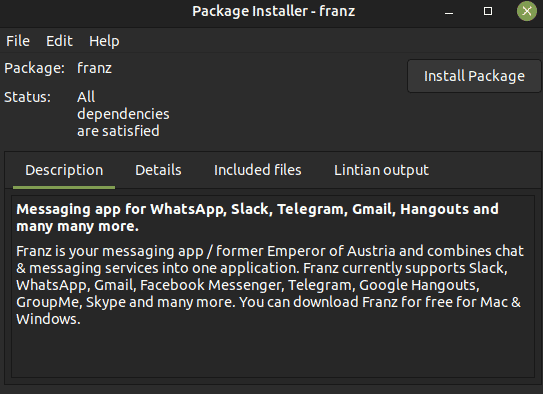 Step 3. Confirm the Franz 5 Installation
As soon as gdebi installs the messenger it will show you a confirmation message as in the following screenshot:

Step 4. Locate Franz 5 Messenger
I am using Mate desktop on my Ubuntu 20.04 installation. This helps me to navigate faster. I will show you where to locate Franz in your system dashboard. Simply type a Franz in your system dashboard and it will simply pop up in front of you.

Otherwise, it is always available in the internet folder to be accessed as shown below: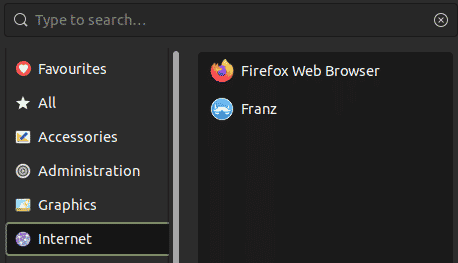 Step 5. Launch Franz 5 Messenger
Once installed and available in the dashboard, click on the Franz icon and it will display the welcome page. You will need to create an account to proceed with further settings.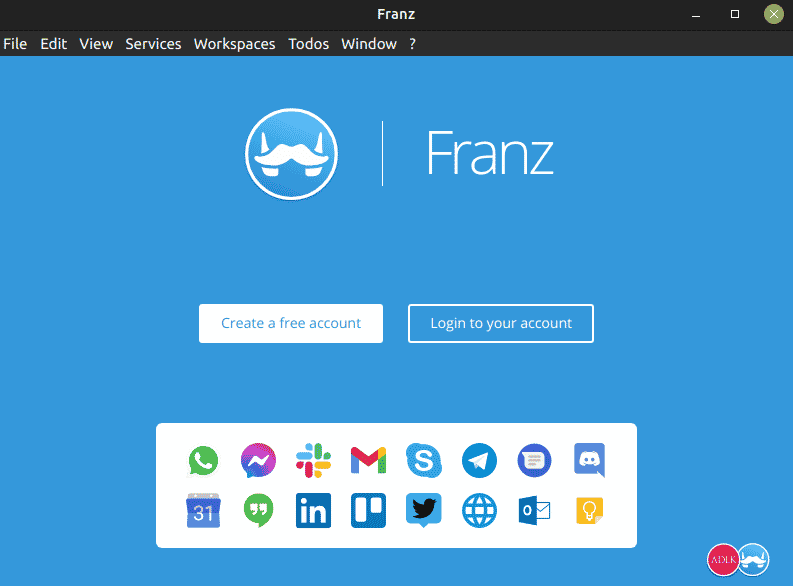 Step 6. Remove Franz Messenger From Ubuntu
It is simple to remove Franz from your Ubuntu 20.04 LTS system. We used a .deb binary file to install Franz. Thus, we will use standard apt command to remove Franz from our computer.

This will remove the messenger from your system in a few seconds.
Conclusion
You can connect with up to 70 services at the same time using Franz. You must sign up for the free account first to see if it fits your needs. This was all for now. I hope Franz 5 helps you stay ahead.