Introduction
How about if I say that your file manager can also be your document viewer and browser? I am sharing something unique in this tutorial. Let me introduce Konqueror, a QT based file manager that works together with your desktop environment. It is not just a one piece of software but also has a built-in fantastic web browser. In addition to above, it perfectly reads most of the documents including PDF and ePub documents.
Konqueror is fantastically designed on top of the KDE program which is powered by the QT engine. Konqueror is not only fast but also has a small memory footprint.
Step 1. Install Konqueror on Ubuntu
There is one thing that you should always do first. It is to update the repositories you have added to the Ubuntu 20.04 LTS repositories. It is simple to do using the following command.
$ sudo apt update
When you are done updating the repositories, you are ready to get the latest version from the sources of any package. In our case it is Konqueror here:
$ sudo apt install -y konqueror

Step 2. Confirm the Konqueror Installation
In this step, I would confirm if the Konqueror file manager has been installed successfully or not. Use the following simple command and check the output. Check my screenshot for the reference below:
$ konqueror --version

Step 3. Locate Konqueror File Manager
In the previous step, I showed you how to verify the installation. In this step, I will show you how to locate where the file manager is installed. You would need to go to your system dashboard and run a search. Simply write a few letters and you will be good to go.

Step 4. Launch Konqueror File Manager
Simply click the icon of the file manager and it will launch with a default page that will show you what to do next. It is up to you how you are using the application. You can choose to run it as a browser or simply click your Home Folder to make it a file manager or whatsoever.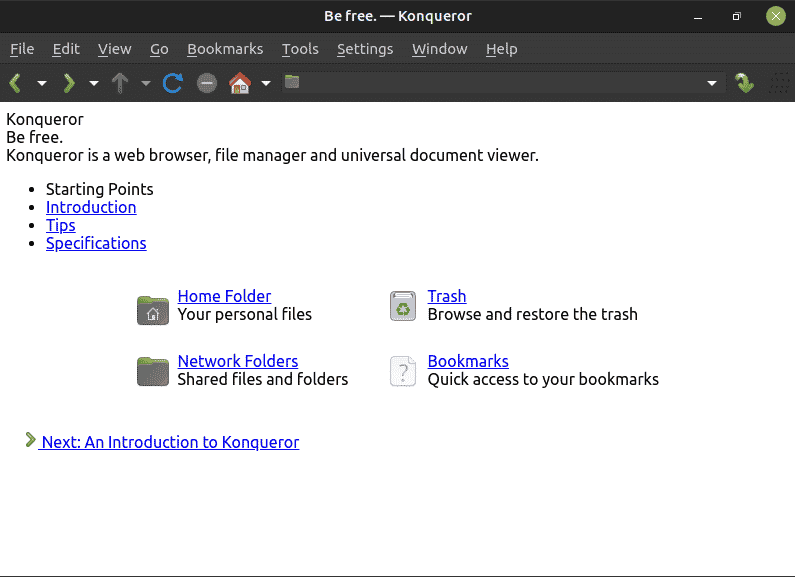 Step 5. Remove Konqueror
It is Ubuntu standard that you would need an apt command to remove a package. Write the following command and you will be good to go.
$ sudo apt remove konqueror

This will remove the file manager from your system.
Conclusion
Konqueror is a fantastic piece of software that helps you perform multiple things. It works as your file manager primarily. However, it can be configured to work as a browser and a document viewer as well.