Introduction
Ever wondered how to create cartoons and animations in a few clicks? Everybody loves cartoons, but very few people make the effort to create for others. If you wonder how simple it is then seek no further. I am introducing you to a simple and easy tool that will change your opinion. Pencil2D is simple, lightweight, and easy to create cartoons. It allows you to create fantastic sketches and make sure that the software takes fewer resources. What else? It is free of cost and runs cross-browser.
I am going to show you how to install Pencil2D Animation on Ubuntu 20.04 LTS. Pencil2D does not require any hard dependencies.
Step 1. Install Pencil2D Animation
Pencil2D does not depend on any particular desktop environment. It comes with its own dependencies, and they are installed right away when you trigger the installation.
I would recommend that first you should update your system repositories as follows:
$ sudo apt update
Then install the Pencil2D package as following:
$ sudo apt install pencil2d
The download and install footprint is so small that you will be amazed. Pencil2D does not take many resources, but you should have at least 2 GB of RAM available to experience better rendering results.

Step 2. Access Pencil2D Animation
When you are done installing, you can always access Pencil2D while invoking it on terminal
$ pencil2d
The other way is known to everybody. Simply go to your dashboard and search Pencil2D or try to check the graphics folder as shown below:

Step 3. Launch Pencil2D Animation
When you have are done installing, you can go to the dashboard and run Pencil2D. Unlike other software, it does not start with splash screens to take launch time. It will start with a blank canvas with a pencil ready to start drawing whatever you want.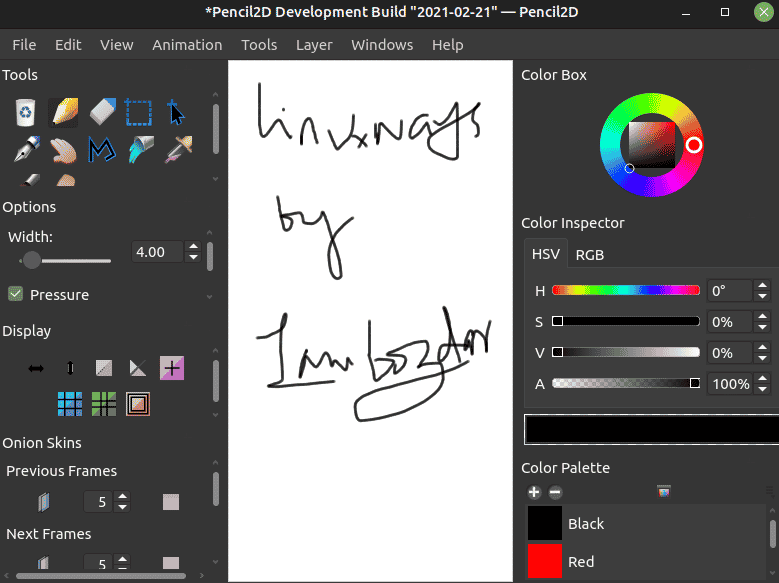 Step 4. Remove Pencil2D Animation
You have noticed that I installed Pencil2D using apt repositories. To remove a package installed from apt repositories. You will need the following command.
$ sudo apt remove pencil2d

Conclusion
Pencil2D Animation outclasses many drawing and paint applications. It is lightweight and simple to use. It also supports vector graphics. Pencil2D is available for all major operating systems. If you are looking for a simple and easy-to-use animation software then look no further. Pencil2D fulfills all the requirements a beginner needs to begin with animation, drawing, and digital painting.