With every day's growing advancements and more businesses coming online, more and more data is being generated and the requirement to save the data in a secured environment is also witnessing a drastic surge. Also, in times of Covid-19, many organizations and companies are shifting to work-from-home, thereby turning the requirement to put data online and share it with all the team, into a more severe need-of-the-hour. The collaborating teams must have access to common data all the time and need access of all types, i.e., to view, edit and delete. To come to the aid, many advanced cloud data storage services make it efficient for the teams to collaborate on common data files and also enable companies to store their data on a safe and secured platform. Many brilliant cloud storage services daily get introduced and influx the market but here in this article we discuss the top best currently existing cloud storage platforms getting a persistent acclamation from its users.
IDrive

Released in 1995 by the IDrive Inc. the IDrive cloud data storage service allows user to seamlessly put their data online onto the most secured platform. Owing to the overall sleek and easy interface and design, and diverse features and affordability, the cloud service is the first choice and recommendation of many users and reviewers across the globe.
IDrive offers its users a secure platform to store their data along with offering numerous features such as users can automatically back up their data to an unlimited number of devices, and can also turn on the real-time syncing. Other than that, IDrive provides access to and the ability to restore significantly older files. With IDrive users can backup entire systems utilizing its capability to preserve full disk images. The platform offers many security features such as two-factor authentication and end-to-end 256-bit AES encryption. Other features of the platform include its ability to generate reports giving different analyses, 24×7 available support, seamless file transfer and receive functionality with collaborating teams, and many more such features.
IDrive provides free storage for up to 5GB of data. For data storage beyond 5GB, different packages are available allowing users to store data up to 12TB.
Get it now from https://www.idrive.com/online-backup-download
PCloud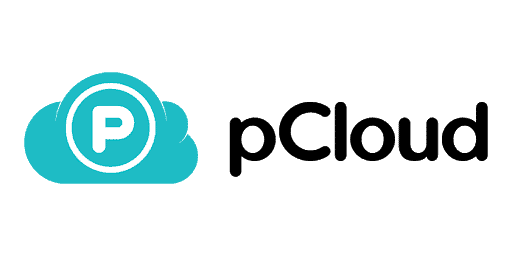 Released in 2013, pCloud has made its mark in the market as one of the best currently existing cloud storage services. Acclaimed by many across the globe, the platform is renowned for its security along with offering a number of diverse features all packed in significantly affordable pricing packages.
pCloud offers its users an optimal mechanism for real-time file management across all devices of a user without any limitation of file sizes. The file management can be done utilizing different tools provided within the pCloud that allows user to resize and compress their data. The backup of a deleted file is stored for up to 30 days during which the users can restore their deleted or edited files. The diverse security features such as 256-bit encryption and two-factor authentication, along with other commendable features offered such as efficient file management and sharing features make it a go-to tool for anyone in search of a complete data storage and securing service. Other features of the platform include file versioning, data storage location i.e., user can select between EU and the US regions, etc. pCloud however does not have a very comprehensive user support model, the support is available via live chat, or users can send emails on their support contact email address.
pCloud offers a free package allowing a user to store data of up to 10GB, which is significantly greater than offered by any other of the competitor platforms. Also, it offers a lifetime subscription package allowing users to pay the lump-sum amount upfront to enjoy the vast data storage platform for life. Users can also select a monthly or yearly pricing model, which too is significantly cheap than the rest of its competitors.
Get it now from https://www.pcloud.com/download-free-online-cloud-file-storage.html
OneDrive

Released in 2007 by the Microsoft technology giants, OneDrive is an intuitive, easy and safe data sharing, synchronizing, and hosting service. Formerly known as SkyDrive, OneDrive comes free with a Microsoft account, however, OneDrive is accessible across all the operating systems including Windows, macOS, and Linux, where Linux users can access the phenomenal data storage platform via Insync.
OneDrive numerous features to its users, some of which include its ability to scan and store business cards, whiteboard notes, receipts, or paper documents, users set an expiration date on the shared files, photos, and links ensuring shared data's security and privacy, allows easy and free access to browser-based versions of Word, Excel, PowerPoint, and OneNote. OneDrive seamlessly integrates with Microsoft Office applications, thereby providing an efficient and hassle-free user experience. Other than that, the platform provides SSL encryption while sharing and receiving data with the collaboration teams.
Users can start using OneDrive right away by getting their hands on the free version allowing users to store up to 5GB of data. For more storage, users can buy different packages available providing 100 GB, 1 TB, and 6 TB of storage spaces.
Get it now from https://www.microsoft.com/en-us/microsoft-365/onedrive/download
IceDrive

Released in 2019, IceDrive is relatively a newcomer for the rest of the stable storage services. However, soon after its debut, since then the platform has managed to come in the list of top best available cloud storage services currently available in the market, of many users and reviewers across the globe.
Just like other cloud storage services, IceDrive too provides an extensive list of features enabling users to store and access their data from a safe and secure platform. One of the main attractions of this platform is that it supports Twofish Encryption that enables data encryption at the client-side with absolute zero data leakages. This makes the platform overall extremely safe and secure. Other features of the platform include its ability to rapidly sync data, sleek and user-friendly user interface enabling east file and data management, fast media streaming, efficient file sharing, and collaborating features, etc.
Users can store up to 10GB of data free of cost on the platform. If required, the user can acquire any of the different pricing packages available according to the user's or an organization's needs.
Get it now from https://icedrive.net/apps/desktop-laptop
Google Drive

Google Drive by Google Inc., launched in 2012 allows users access to a safe, secure, efficient, and reliable platform for storing, managing, and accessing their data or files. Google Drive is available across all the operating systems, except for Linux. However, now with the Insync service, just like OneDrive, users can also get access to Google Drive, thereby making the platform now a cross-platform service.
With Google Drive, users can create, manage, and share documents, sheets, forms, and slides. Also, Google Drive provides real-time file synchronization thereby improving the overall platform's efficiency. Being developed by the Google technology giants, the platform allows integration with numerous external systems and applications such as Gantt chart, mind map, various diagram tools, etc. The platform provides and ensures data safety, security, and privacy by adapting different functionalities such as 2-factor authentication, HTTPS, and TLS for transmissions to and from the user's device and data or file encryption.
Google Drive provides free data storage of up to 15GB for google accounts. Other than that, different pricing packages are available providing storage up to 30TB.
Get it now from https://www.google.com/drive/
Closing Remarks
With an influx of cloud storage services in the market, it gets quite inconvenient for users and businesses to select a storage service for storing, sharing, and managing their data or files. The article summarizes the top best existing cloud storage platforms providing support for all the operating systems. Each storage service provides users with the ability to create, store, manage and share their data with other team members in real-time through safe and secured data encryption mechanisms. Users can test every discussed cloud platform for free for up to a limited amount of data storage capacity, after which users can subscribe to any of the pricing packages provided by each cloud storage platform. IDrive, pCloud, OneDrive, IceDrive, and Google Drive ensure the safest platform for data sharing and storing, with each platform slightly varying in providing different features such as support models, external systems integrations, etc. Therefore, based on an individual or a company's need, the selection of the best-suited cloud storage can differ, though each platform is a top-rated storage service by many across the globe.
Karim Buzdar holds a degree in telecommunication engineering and holds several sysadmin certifications including CCNA RS, SCP, and ACE. As an IT engineer and technical author, he writes for various websites.