Rhythmbox is free, open-source, and packed with functionalities that make listening to music a delight. This includes supporting a wide range of audio formats, enabling easy organization of your music library, offering plugin support for added features, and more. However, how can you obtain it for your Linux system? Well, here we are with a detailed guide on how to install Rhythmbox on Ubuntu 22.04. First and foremost, let's explore the reasons why having this software on your system is good for you.
Why Rhythmbox?
Choosing the right media player for your system can greatly enhance your music experience. With the abundance of options available today, what makes Rhythmbox stand out? Let's delve into the key reasons:
Open-Source and Free: Rhythmbox is free and open-source software, meaning it's not only free of cost, but you also have the freedom to inspect, modify, and enhance its source code. This creates a community-driven development process, often leading to rapid bug fixes and feature additions.
Versatile Compatibility: Designed with compatibility in mind, Rhythmbox supports a broad range of audio formats like MP3, FLAC, AAC, and WAV. So whether you have a diverse music library or stick to a specific format, Rhythmbox has got you covered.
Organizational Features: Rhythmbox provides an easy-to-navigate interface to efficiently manage your music library. It allows you to sort tracks based on various attributes such as artist, album, or genre. It also offers playlist creation so that you can customize your music experience to your mood or event.
Streaming Support: Rhythmbox is not just limited to playing the music files on your system. It also supports internet radio and podcast streaming, which allows you to explore and enjoy a vast range of online content.
Prerequisites to install rhythmbox on Ubuntu 22.04
Before diving into the installation process of Rhythmbox on Ubuntu 22.04, it's important to ensure certain prerequisites are met, such as to date system, adequate disk space, and terminal accessibility. These prerequisites are vital to ensuring a smooth and successful installation.
Update Your Ubuntu 22.04
Maintaining your Ubuntu system updated is vital for maximizing compatibility and safeguarding security. Open your terminal by pressing Ctrl + Alt + T and run the following command:
sudo
apt update
&&
sudo
apt upgrade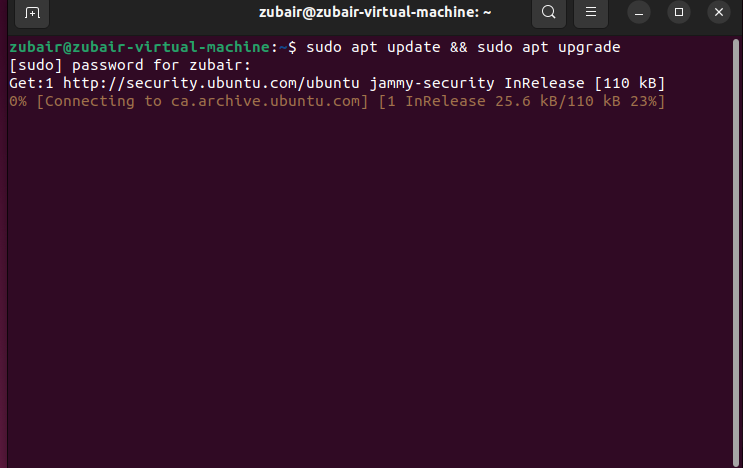 After this, your Ubuntu 22.04 should be up-to-date and ready for the Rhythmbox installation.
Install Rhythmbox
By following the provided steps, you will be able to install Rhythmbox seamlessly without encountering any problems.
Step 1: Open Terminal
The first step in the installation process is to open the Terminal. The keyboard shortcut Ctrl + Alt + T can be used.
Step 2: Install Rhythmbox
To install Rhythmbox, you will use the apt install command. This command tells the system to install a specific software package. In this case, that software package is Rhythmbox.
Here is the command to install Rhythmbox:
sudo
apt
install
rhythmbox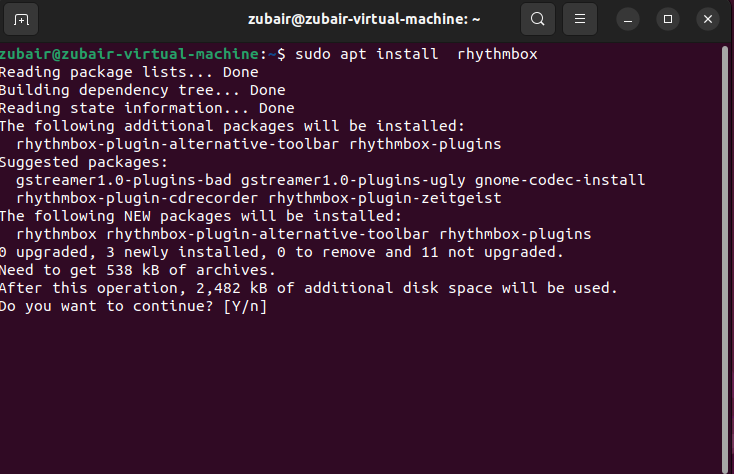 After pressing Enter, you will be asked to input your password because the sudo command is being used.
Step 3: Check version
if we check the version, it will also confirm the installation of rhythmbox in our Ubuntu.

Uninstalling Rhythmbox on Ubuntu 22.04
In case you decide to go with some other software and want to uninstall the Rhythmbox, this can be done using the terminal by entering the following command.
sudo
apt remove
--autoremove
rhythmbox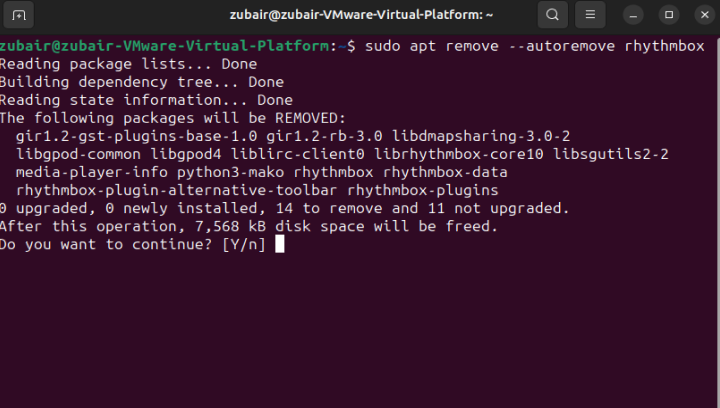 Conclusion
Rhythmbox is an excellent addition to your Ubuntu 22.04 system, transforming your music experience with its remarkable features and user-friendly interface. Installation can be a seamless process when broken down into clear, manageable steps. Beginning with understanding why Rhythmbox is a great media player choice to ensuring all the prerequisites are met, every step is crucial in ensuring a successful installation.